Summer: Time for long nights, warm breezes, backyard barbeques, weddings...reunions...time to look and feel your best! You need the a secret weapon to combat the signs of aging and keep your skin glowing: ANTIOXIDANTS. 
As you feel the warmth of the sun out shopping or having lunch on the lanai, the radiation from the sun creates what are called "free radicals" in your body's skin cells. Free radicals are chemicals that have the potential to harm cells, and when your skin cells are damaged, they readily show the effects of aging caused by this oxidative stress. In fact, the National Center for Biotechnology Information reports that:
"Up to 90 percent of cosmetic skin problems associated with aging could actually be from sun damage, not the normal aging process."
In the skin, free radicals can damage collagen, leading to premature loss of elasticity, hyperpigmentation, age spots and unwanted textural changes. And they come at us from everywhere: food, alcohol, contaminants in the air (like cigarette smoke or pollution), and even the sun. This leads to oxidative stress, which occurs when there is an imbalance of free radicals and antioxidants (too many free radicals and too few antioxidants), leaving skin unprotected against free radicals and the resulting damage they cause.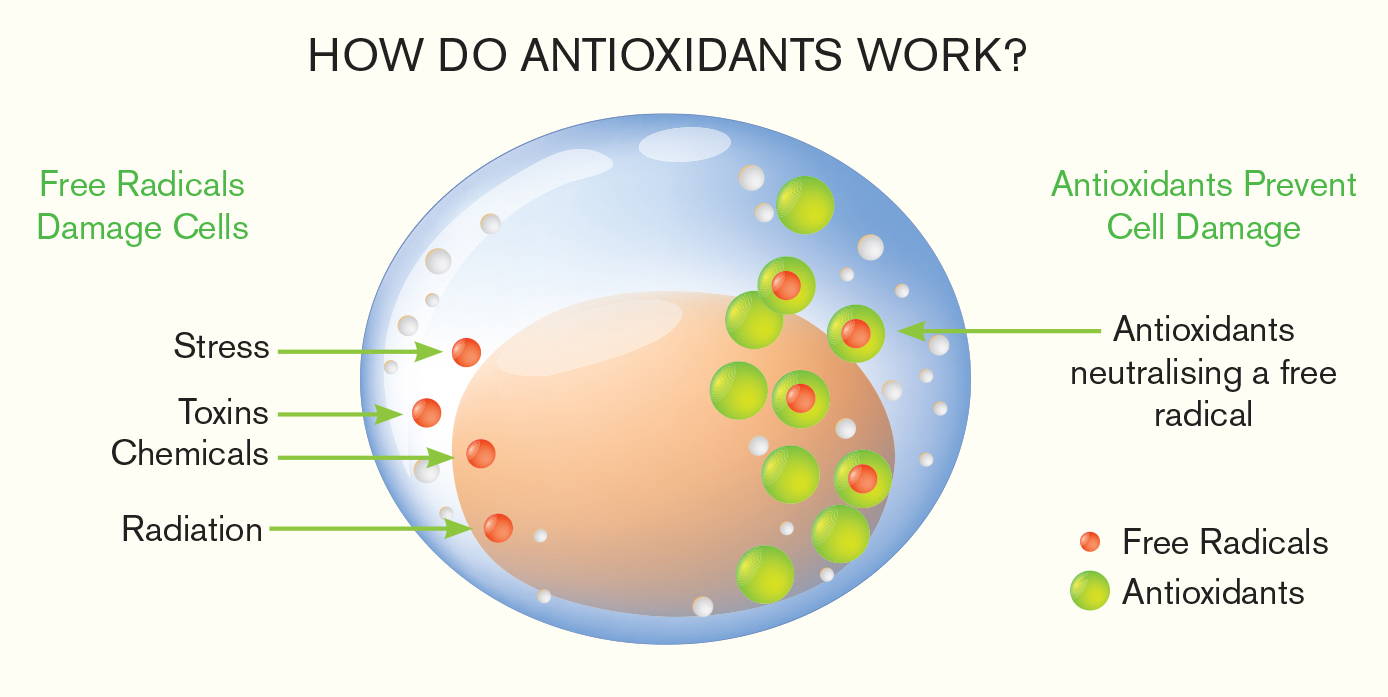 Fortunately, nature gave us tools for fighting the damage that free radicals can cause. Nature gave us antioxidants. SKIN UP made them ready to use at your finger-tips. 
Antioxidants are chemicals that interact with and neutralize free radicals, preventing them from causing damage. Our bodies make them naturally and are also found in plants, giving us an extra arsenal in the fight against sun damage. And aging? The production of antioxidants in our bodies slows significantly as we age - which is why it's so important to have them supplimented in both skincare and healthcare routines. With SKIN UP's Hydrating Elixirs, you not only have the moisture magnet Hyaluronic Acid for ultimate hydration, but you also have powerful antioxidants to speed up cellular metabolism to battle free radicals and the damage they cause. 
The antioxidants in our topical misted Elixirs, Lipoic Acid and CoEnzyme Q10, are renowned for their anti-aging, free radical fighting capabilities. 
Lipoic Acid is such a powerful antioxidant because it is both water- and fat-soluble, which means it fights free radicals in just about every tissue in the body. It can also recharge other antioxidants — like Vitamin C.
CoQ10 is also naturally produced in your body. This too helps to neutralize the harmful free radicals, and so important as the age-related decline in CoQ10 leaves your skin more prone to damage by free radicals.
Kick off this summer with your most radiant glow - and keep it! Misted. Anytime, anywhere. 
As you harness the power of topical antioxidants to keep your skin healthy and radiant with our misted Hydrating Elixirs, don't forget your sunscreen. And always, take that glow on the go! SKIN UP is the makeup reviving spa in your pocket, always ready for any summer adventure!